How Upstream Mobility is shaping the future of Smart Mobility in Smart Cities
by Linh Viet Phan & Valeriya Pustynnikova
The status quo of Smart Mobility Market
 Smart mobility, smart cities, smart lifestyle. The new era brings new opportunities for the optimization of our lifestyle. With global digitalization, we are able to make our daily lifestyle more convenient and create a sustainable environment. Have you ever imagined how we are going to commute in the next 20 years? Driverless cars and car-free residential areas today do not seem like something unrealistic and the way people commute can be totally different in the next 20 years. Moreover, we are slowly changing our mobility lifestyle towards more sustainable ways. Traffic, air pollution, and noise make residents of large cities exhausted and this is where innovative solutions for mobility rise to deal with the problems. Eco-friendly public transport services and convenient connections give an opportunity for people to use public transport instead of private cars.
Additionally, the success of companies like Uber and Lyft with the sharing economy has created a wave of smart solutions in the mobility market worldwide. Many new transportation services and private companies have been joining "the battle" of digitally networked mobility services with a competitive pricing strategy. Their appearances were actually also triggered by the increasing demand for smart mobility solutions. It is expected that the population of big cities around the world is going to grow rapidly in the upcoming years. By 2027, it is forecasted that there will be 2 million people living and working in Vienna alone (Upstream Mobility, 2019). This situation calls for more investment in traditional public transportation because the higher the population, the higher the demand for efficient mobility solutions.
To deal with this situation, why not have all possible mobility options including train, bus, e-scooter, and so on just on your hand palm? Either for private use for your daily routine or for corporate purposes, the all-in-one mobility platform shows you all possible transport options, time to the destination, analyses your previous trips, and gives even better solutions for the next time. This is what Upstream Mobility – a software development company for mobility solutions based in Vienna does since 2016. Owned by Vienna public transport providers, Upstream Mobility develops all in one application for smart mobility solutions for citizens of European cities and public transport providers (Upstream Mobility, 2020)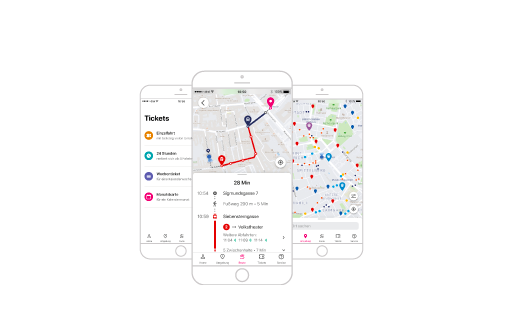 Source: Upstream Mobility's website
For the people
Upstream Mobility connects public transport, car-sharing and car rental providers, taxi companies, bike-sharing and rental services and integrates them all into one application. What are the benefits of each side? Citizens have quick access to various types of transport and can easily plan their routes. Corporate organizations reduce administrative costs and expenses on owning their own fleet. And public transport providers have control of the occupancy level, traffic control and reduced number of private cars used in the city. There are already products developed for several Austrian cities, such as WienMobil for Vienna (Wiener Linien, 2020) and TIM for Graz and Linz (Tim Oesterreich, 2020).
Source: Wiener Linien's website
Another valuable product of Upstream is Joe – a multimodal mobility platform offered for corporate customers of Upstream. What combines all of these products? They are all 100% cloud-based, collect and analyze data and constantly update the data due to machine learning functions. This will lead to a reduced number of private cars in the cities and CO2 emission reduction. Digitization and sharing economy are determining the mobility of the future (Dimitrakopoulos et al., 2020) and following this trend, corporate companies, housing and real estate companies are integrating smart mobility solutions into their working process with the help of Upstream Mobility. Depending on the contract, Upstream either continues the maintenance of the software or hands it over to the customer.
The next step of smart mobility is to serve smart cities, where the concept is to create a Movement in Community concept. LeoMobil – a smart mobility solution for a car-free residential area of Neuleopoldau is now under development (Upstream Mobility 2020). Upstream works closely with housing and real estate companies in order to create a car-free residential area with smart mobility solutions. People take a bike or a scooter for short-distance trips or take a car for family drives during the wintertime or bad weather. All the services are provided in terms of a shared economy with an easy booking process and administration, leading users to integrate sustainability into their lifestyle. This way of living will give more space for networking, spending time with friends and family while the smart technology is covering all the basic needs. It saves time for technical service, saves costs for insurance and maintenance. Moreover, it actually gives an opportunity to choose a range of cars of different levels and support sustainability by using electric or hybrid cars. A new approach of mobility transforms people's mobile habits into more sustainable habits (Šurdonja et al., 2019, p. 605). Smart mobility solutions – smart lifestyle.
For the public transportation providers
Along with the rise of private services and mobility solutions mentioned earlier, it is important to understand that public transportation can only be equally accessible and affordable to everyone when it is under the control of the public sector, who always prioritizes the public interest (Upstream Mobility, 2019). That is why it is the right time for public transport operators to get rid of paper-based systems. They need to keep up with fast-changing technologies such as automation and data technology and adapt to the higher needs of the public to ensure their overall management. However, many cities are facing difficulty in accommodating these technical developments due to the considerable amount of investment required (Upstream Mobility, 2019). Understanding profoundly about their situation and challenges, Upstream Mobility is gaining the leading position in the field of smart mobility solutions by building the digital mobility infrastructure for the cities and public transport providers.
This digital mobility infrastructure comes under the concept of Mobility as a service (MaaS). This can be considered as a digital networking platform that allows public transport providers to access all other mobility offers (Upstream Mobility, n.d.). So how can this bring values for the providers? They can save their time, effort and money in negotiating and networking with each individual service operator. Moreover, Upstream Mobility's platform can be adapted anytime and allow the public transport operators to connect to it conveniently on shared computing infrastructure over the internet. It can be quickly and cost-effectively customized based on specific requirements of each public transport provider's business model (Upstream Mobility, n.d.). Through the platform, anonymous user data can be collected, which is the key to finding out the solutions to solve problems regarding traffic control, operation and usage of resources.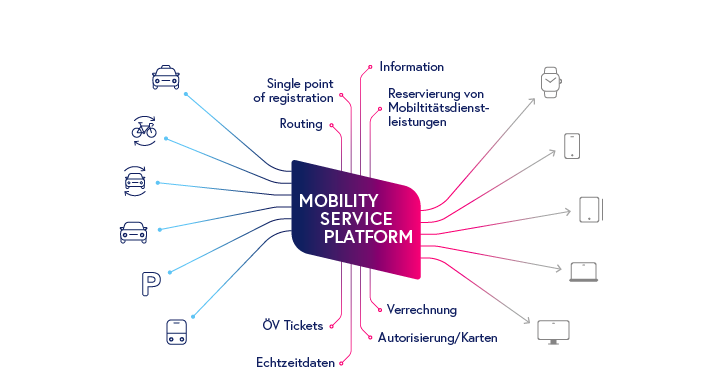 Source: Upstream Mobility's website
 For the future of mobility and smart cities
Upstream is not only working on polishing their existing solutions but also on various research projects. They are analyzing the technologies and solutions that can help people to commute in a more convenient way in the future. Whenever they have new ideas, they will quickly build prototypes and test them pre-commercially to see the response of the public (Weinzettl, 2019). Currently working with cities and countries outside of Austria such as Hamburg and Switzerland, Upstream aims to cooperate with more cities around the world to develop their digital mobility platform. In this way, Upstream's digital infrastructure stands a high possibility to become a real asset for public transport providers and cities in the upcoming years. We can say that the company is making a continuous effort in shaping the future with added social values and strategically contributing to the evolution of "tomorrow non-discriminatory mobility".
References
Dimitrakopoulos, G., Uden, L., Varlamis, I. (2020). The Future of Intelligent Transport Systems. Integrated mobility for smart cities (231-238)
Šurdonjaa, S., Giuffrè, T., Deluka-Tibljaš, A. (2020). Smart mobility solutions – necessary precondition for a well functioning smart city. Transportation Research Procedia 45, 604–611
Tim Oesterreich. (2020). tim in der Stadt deiner Wahl. Retrieved 15 May 2020 from https://www.tim-oesterreich.at/
Upstream Mobility. (2019). Daten mit Mehrwert für Städte und die Menschen — Upstream Mobility. Retrieved 9 May 2020, from https://www.upstream-mobility.at/news/2019/5/23/daten-mit-mehrwert-fr-stdte-und-die-menschen
Upstream Mobility. (2019). Ein digitalisierter, Daten getriebener Mobilitätsmarkt braucht starke öffentliche Akteure — Upstream Mobility. Retrieved 9 May 2020, from https://www.upstream-mobility.at/news/2019/10/10/digital
Upstream Mobility. (2020). LeoMobil. Movement in Community. Retrieved 15 May 2020 from https://www.upstream-mobility.at/leomobil
Upstream Mobility. Ihr Einstieg in die digitale Mobilität — Upstream Mobility. Retrieved 9 May 2020, from https://www.upstream-mobility.at/starter-paket
Weinzettl, J. (2019). Upstream: Wie sich eine Zwei-Klassen-Mobilität verhindern lässt. Retrieved 9 May 2020, from https://www.derbrutkasten.com/upstream-interview-weinzettl/?fbclid=IwAR1SOQADUMTt2rQrLW0ZW5SBTAjJy1g8Spyv2iPulW1Yc5ULxKhatLUtWu8
Wiener Linien (2020). WienMobil: mit einer App die Stadt im Griff. Retrieved 15 May 2020 from https://www.wienerlinien.at/eportal3/ep/channelView.do/pageTypeId/66526/channelId/-3600060#176702