We just had our presentations at the ENTER conference 2016 in Bilbao. ENTER is an annual conference on ICTs in Tourism,  organized by IFITT – the world leading academic community in this field. More than 300 delegates participated this year and we made it with two papers to the podium.
Both presentations raised big interest within the audience. Congratulations to my four master students.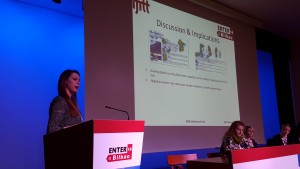 Lenka presented our paper on: Tracking Tourist Spatial-Temporal Behavior in Urban Places. A Methodological Overview and GPS Case Study.
Johanna, Miriam and Martina presented our paper entitled: Online Hotel Reviews Rating Symbols or Text Text or Rating Symbols Thats the question.
Ladies – well done. Great success &  lots of fun!